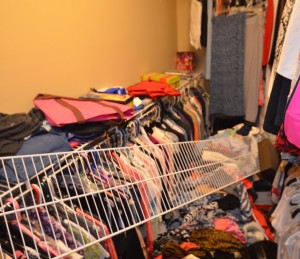 When the wire shelving falls down…
It was Super Bowl Sunday…start of the 4th quarter…suddenly there was a very loud "thud."  They thought something hit the house and ran outside with flashlights.  But…nothing!  "Curious" they thought.  Later when going to bed, the answer became clear.  She walked (almost tripped) into her closet to find one of the wire shelves had crashed to the ground.  What a mess!
Two days later we got the call; "Can you help me, my closet fell down?"  We took a look at this all too common occurrence, and offered a custom solution.  We increased the useful hanging space as well as added lots of shelves for shoes, purses and other items.  The customer couldn't be happier with the design, our service, and the pricing.